Many people with diabetes have very special requirements for their footwear. In some cases due to nerve damage the feet are unaware of pressure, often resulting in ulcureted feet.
As an experienced master orthopaedic shoe maker, Samuel Welter is familiar with such problems (graduated in 2006, followed by many updates in this field).
That's why he produces especially soft, supple, comfortable shoes for diabetes patients, with a diabetes-adapted footbed (DAF) which considers offloading.
If it is necessary he consults with the attending podiatrist or diabetologist/endocronologist.
We create aesthetically pleasing shoes for individual diabetic foot problems using high-tech materials and quality leather. Each shoe is a quality product, manufactured with extensive specialist knowledge and sensitivity in our own workshop.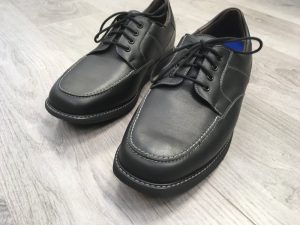 Workshop and office in Naas just beside Dublin
Unit W3G, Ladytown Business Park (formerly known as Toughers Business Park)
Ladytown
Naas, Co. Kildare
W91 H9K3
Phone
+353 (0)45 866 887
Email
contact@welters.ie