You have heard of the Lord of the Dance, and the Feet of Flames, now let us introduce you to Samuel Welter, Pedorthist, the Lord of the Shoes.
Samuel (Sam) is from Cologne, West Germany and came to the Republic of Ireland in 2015 to work with another shoe specialist company.
Seeing an opening in the market for his specialised work and for your wellbeing, he decided to open his own business and can be located currently at 240, Merrion Road, Dublin 4 .
Sam is a pedorthist – " What is a pedorthist? " you might ask.
A pedorthist has studied the structure of the foot over many years and understands the effect of the feet both static (standing still) and dynamic (walking) on a person's posture. So following 30 years of studying and working in this field we can now welcome him to Ireland. Sam has also completed studies in the diabetic foot.
"For over 30 years I have aspired to satisfy every one of my clients.
A product will therefore only leave my workshop once I am convinced that it meets your exact requirements.
This is my promise."
Samuel Welter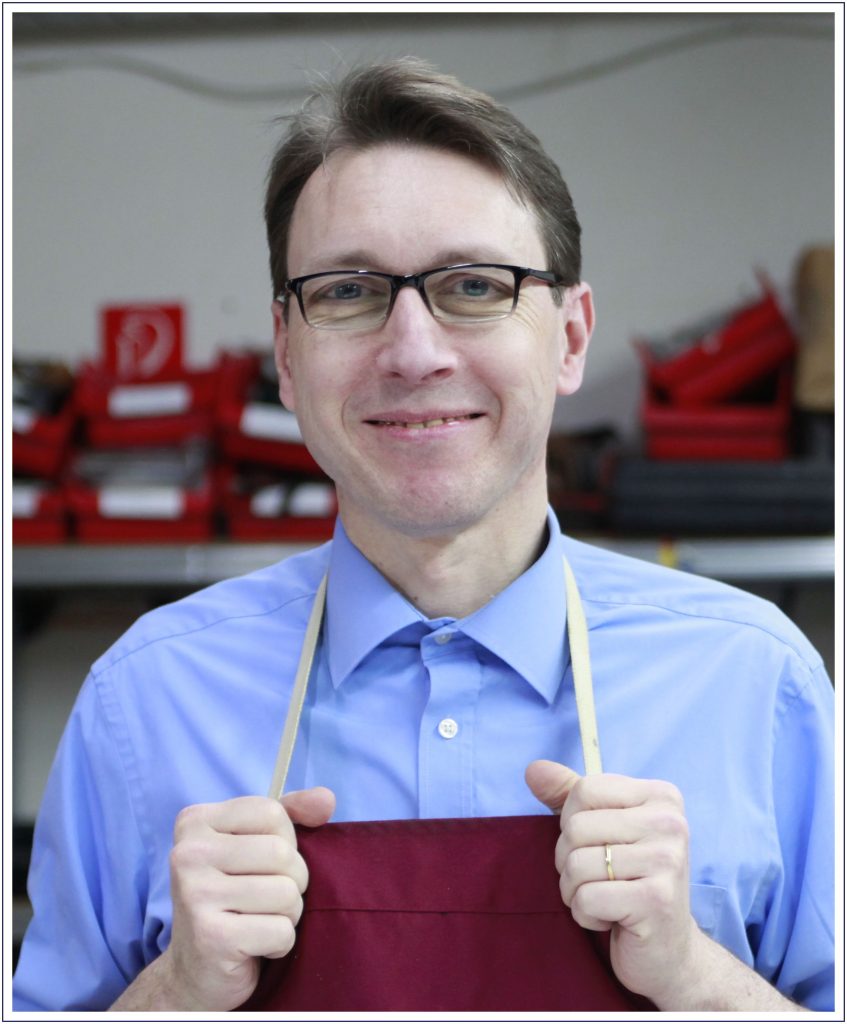 To understand more have a look at the different offerings and how Sam can help you whether you have foot problems or not.
Because you worth it

Getting Married, Special Occasion or you want just comfort for you feet, whatever the reason if you would like a pair of shoes made to your specifications in a style of your liking, do not hesitate to contact Sam.
Having shoes made to measure is an experience and one which a customer should enjoy. To have shoes made to measure Sam will analyse the feet, assist with the customer making a decision on style, choice of leather etc and the shoes will be personalised to suit you even with your name printed on the inside lining.
For your wellbeing
Footwear can be handmade to cover the following deformities – to name a few
High Arch Foot – Pes Cavus, Flat Feet – Pes Planus, Bunion – Hallux Valgus, Limited movement of the big Toe – Hallux Limitus, Arthritis and Rheumatoid Arthritis , Diabetic Foot including Diabetic Ulcer, Drop Feet, Gangrene.
So you thought orthopaedic shoes had to be ugly and cumbersome well think again.
To make an appointment Please contact us.
On meeting Sam will take a number of scans using the latest 2 D technology and foot pressure measuring to identify how your feet are effecting your posture and how he can assist with the effects of this on your body.
Once you have decided to proceed he will make a shoe/boot to a "fit – on stage" when he will note any further alternations/adjustments which may have to be made before the process continues.
Apart from our made to measure, bespoke, handmade footwear, we offer a range of off the shelf/therapy shoes which are suitable for diabetics, rheumatics and children to mention a few.
These are specially chosen to suit the wearer and to accommodate any orthoses necessary and are made from the latest high tech materials and sourced from our very reliable suppliers. Many styles and colours are available. To achieve the best results in this area it is best to understand that in the event that the condition of the feet requires the need for orthoses the style of the shoe now suitable for you may not be your most desirable/taste so you have to have an open mind.
For your well-being it is important to be up and moving and Sam will have you back on your feet – from couch to 5 km in no time. While of course this cannot be guaranteed it is better to strive in that direction.
Orthopaedic Footwear is VAT exempt if the customer is referred by a G.P or other.
Orthopaedic Footwear may be claimed under some private health providers e.g. VHI (depending on your policy).
Orthopaedic Footwear may also be covered under the H.S.E. (medical card holders).
Prescribed orthopaedic footwear and orthotic may be claimed against PAYE under Med 1.

Foot Orthoses and Bandages
As well as our range of footwear, we offer special insoles, neuromuscular therapy insoles, sensomotoric orthoses, diabetic insoles and customers insoles you to suit your specific medical requirements.
If you are experiencing any pain with your feet, knees or back please contact Sam. Using state of the art technology scanners and foot pressure measuring pads. He will record and analyse your individual movements (static and dynamic).
From the results and employing 30 years of experience, a pair of specialised insoles will be yours to use on a daily basis, which will bring comfort to your walking and improve you well-being which is very important is this hectic world.
So take time out, look after yourself by contacting Sam and he will look after your feet.
We also have a supply of supports available for ankles, knees etc. Sam will show you how to use these to their optimum use.
Should you have problems finding shoes to suit the orthotics, please do not hesitate to Sam as he has a range of suitable footwear for your orthotic.